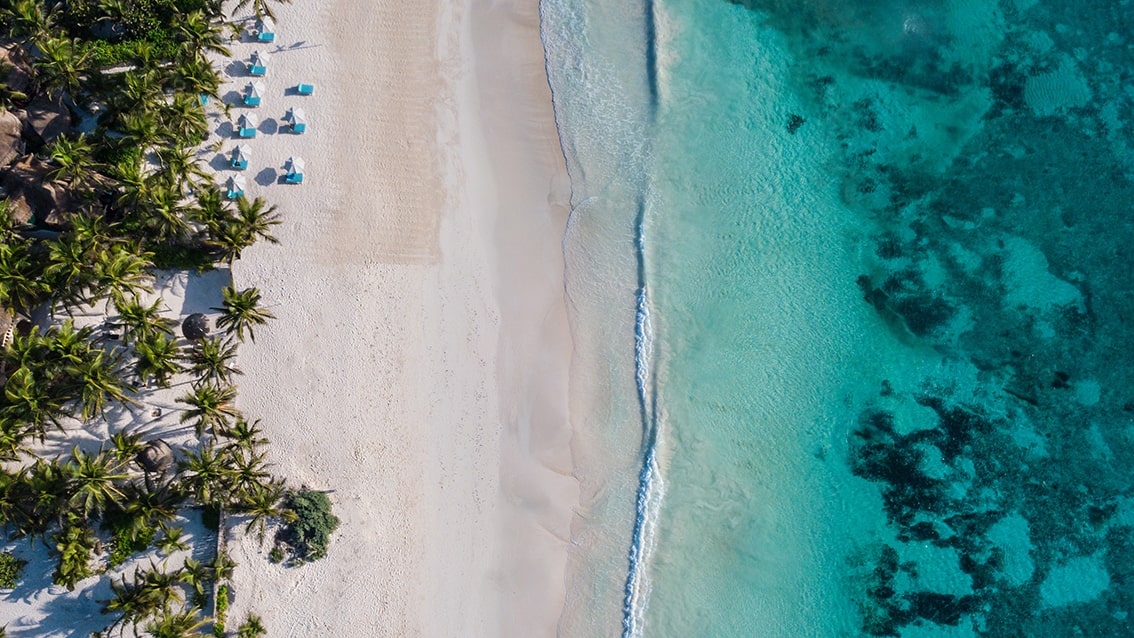 Tulum real estate
In recent years Tulum, Mexico, located 90 minutes south from Cancun, has become one of the most trendy destinations in the world, not only because of its spectacular natural attractions such as white and sandy beaches with turquoise crystalline water, freshwater cenotes immerse in the lush jungle, the Sian ka'an biosphere or archeological sites of the ancient Mayan Culture, but also because Tulum has created a very attractive style with a unique personality which is reflected in its architecture, gastronomy, fashion, multiculturalism and its eco-healthy way of living. All this led the Tulum Real Estate market to grow significantly and since the last 5 years all properties (be it a piece of land for sale in Tulum, a condo for sale in Tulum or a home for sale in Tulum) have had an exponential value appreciation and in terms of rentals generate a very interesting Return on Investment (ROI).
Increase in the real estate market in Tulum
A very important point that has made Tulum Real Estate market to be highly valued among its investors is its accessibility, since Tulum is only 90 minutes away from Cancun International Airport, the second busiest airport in Mexico after the International Airport of Mexico City. However, Cancun International Airport is the most important, both in the country and in Latin America, in terms of international flights and passengers, having an endless number of flight alternatives from many cities around the world.
Additionally, with the idea of growing the destination, the Mexican government is building the «Tren Maya», a high-speed train that will connect Cancun with Tulum and other cities located in the Yucatan Peninsula. It is expected to be operational by the end of 2023.
According to the World Tourism Organization, Mexico ranked 7th in the world with almost 45 million tourists, being Cancun and Riviera Maya where Tulum is located, the most important tourist destinations in the country. The interest of international tourism in Tulum has increased exponentially in recent years.
Tulum is not only a very exclusive destination frequented by celebrities and personalities from the world of entertainment and fashion, but also there is a great diversity of residents in Tulum, both Mexicans and foreigners from different places of the world especially from Europe, South America, Canada, and USA. All of them have influenced and enriched the environment with touches of their own cultures resulting in an eclectic and glamorous combination, and at the same time particularly and authentic, very attractive for all its visitors. It is amazing how the Mayan culture brings mysticism and identity to this wonderful place, mixing and fusing perfectly with the modernity and globally of Tulum.
A better lifestyle
This amazing place has positioned itself as an ECO CHIC destination where the wonderful natural environment is respected, and self-sustainability is encouraged. The style of Tulum is so special and that today it is recognized as a Style that sets an international trend in fashion, decoration, and even lifestyle.
Natural and healthy lifestyle are the key to Tulum, and this is also reflected in the food. Diversity of restaurants with different delicious gastronomic proposals ranging from gourmet to vegan, with touches of different cultures always with quality and fresh products from the area, mixed with the recognized and characteristic taste of Mexican food... culinary experience at its best!
As a result of the accelerated growth of Tulum Real Estate market and the emergence of many new touristic spots along Tulum's spectacular beaches, such as restaurants, spa's, beach clubs and hotels, both the municipality and private sector are investing in infrastructure, providing the city with new roads and services to give the community a better quality of life and at the same time offer tourism the best experiences in Tulum.
Tulum Real Estate market offers different options of developments and locations according to the budget and investment needs of each buyer. Just to mention some premium residential areas where we can find very interesting investment opportunities, there is Aldea Zama, Veleta, Holistika, Region 15 and Region 8. All of them are close to commercial spots with restaurants, grocery stores, medical services, gyms, and many other services with easy access to downtown Tulum and to the beach. All these residential areas are very close to each other, so it is very nice and simple to move around by bicycle and enjoy the ride through Tulum's natural environment.
For these and more we are totally convinced that today is the perfect moment to invest in the Tulum Real Estate market, because as Tulum is still in its first stages of development, this trend of growth and appreciation will continue increasing exponentially in the following years.
Get to know the Living Tulum´s real estate portfolio
In Living Tulum, we have a very interesting portfolio of properties, from plots for residential or commercial purposes, to condos or houses on pre-sale or ready to be delivered, all within the best locations in Tulum. We choose the properties that bring real value to our clients, to the community and to the urban design of Tulum, in this way we increase the quality of life, a good Return on Investment (ROI) and greater surplus value to our investors.
Please don't hesitate to contact us, either through our website, WhatsApp, email or by visiting our offices in Tulum, our team of sales advisors, some of them expats living in the area with a great expertise in the Tulum Real Estate market, would be more than happy to advise and help you find the best property according to your investment needs.