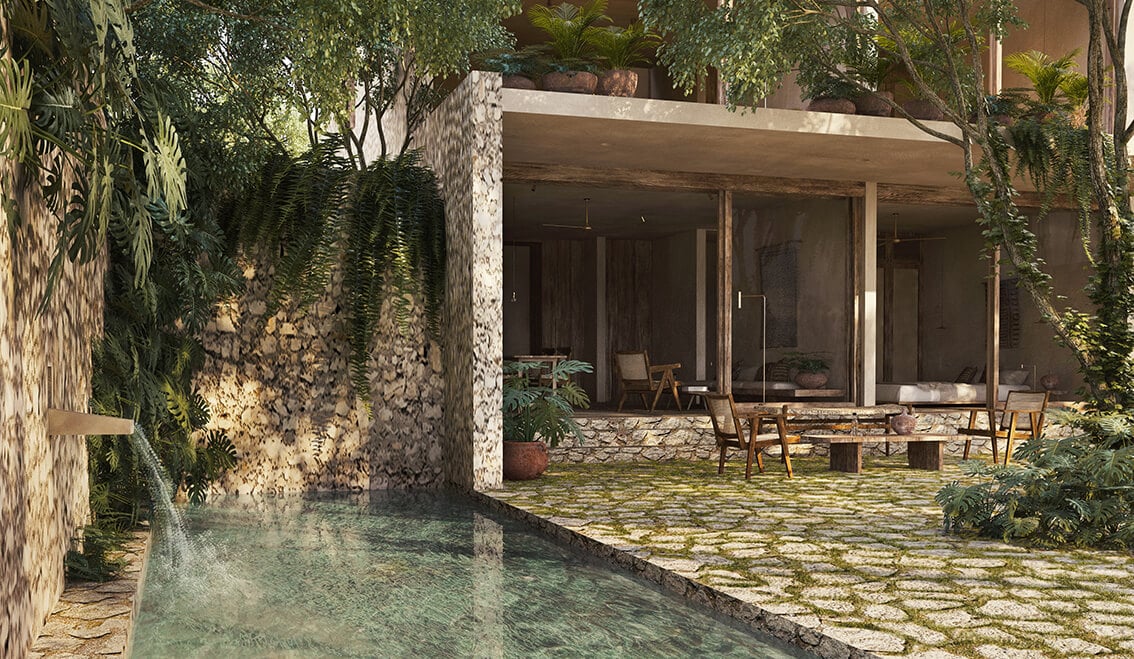 Condo for sale in Tulum
Tulum Mexico has grown exponentially in the last 5 years, that's why it is considered as one of the booming destinations with greater projection and growth in the world. This growth has been reflected in the Tulum Real Estate market which has a huge demand, and all properties are appreciated around 15% per year. A property in Tulum not only offers great long-term value, but also immediate benefits for its owners.
Being aware of the exponential appreciation of the Tulum Real Estate market and since a property in Tulum generates a very interesting Return on Investment (ROI), the eyes of investors from all around the world are seeking for a property for sale in Tulum.
If you are interested in growing your patrimony and at the same time generating a good ROI that helps you recover the invested capital in a short time, you should seriously consider searching for a lot for sale in Tulum, a home for sale in Tulum or a condo for sale in Tulum.
Whether it is a piece of land for sale in Tulum, a home for sale in Tulum or a condo for sale in Tulum, there are excellent opportunities to invest, and prices may vary according to the needs of each investor. Furthermore, you may find some projects on pre-sale that would allow you to pay small installments along the construction phase.
Concerning the cost of a condo for sale in Tulum, there are very affordable options starting at 100K USD, but price would depend on its size and location. The most common kind of condos are studios, 1 bedroom, 2 bedroom or 3-bedroom units, but you could also find bigger options.
As for the locations, there are some premium residential areas where the best developments of Tulum are being built, such as Aldea Zama, Veleta, Region 15, and Region 8. All of them are close to commercial areas with restaurants, grocery stores, medical services, gyms, and many other services with easy access to downtown Tulum and to the beach. All these residential areas are located very close to each other so you could move around by bicycle and enjoy the natural environment.
Aldea Zama
Aldea Zama a premium neighborhood in Tulum developed by private investors composed of a residential area and a commercial area.
It is very close to downtown Tulum and will reach the hotel zone of the beach, framed by 2 beach access streets, Coba Avenue and Kukulkan Avenue.
Within Aldea Zama we offer beautiful condo for sale in Tulum, home for sale in Tulum, as well as land for sale in Tulum to build a residential house or to build a condo if you are a real estate developer.
La Veleta
La Veleta is one of the first residential neighborhoods that existed in Tulum, therefore it is one of the fastest growing areas in recent times. Located very close to downtown and easy access to the beach by Kukulkan Avenue. As any growing sector in Tulum, most of the streets are already fully serviced, but there are still areas under development.
In this area you will find beautiful homes for sale in Tulum and condo for sale in Tulum, being many of them for vacation rentals with a very interesting ROI for its investors.
Region 15
Region 15 is a relatively new premium residential area, very interesting for investors because in recent years has been the neighborhood with the highest appreciation in Tulum, due to its exponential growth and unbeatable location. It is very close to the wonderful beaches of Tulum, to the commercial area of Aldea Zama, to the iconic Holistika Park, having excellent connectivity through Kukulkan Avenue, the access street to the beach.
If you are looking for a condo for sale in Tulum within one of the best locations you can be sure that in region 15 you would find the best opportunities, the most spectacular condos at the most competitive prices.
Region 8
Region 8 is the newest premium zone in Tulum, it is in an early phase of development due the recent opening of the new beach access by Kukulkan Avenue, however it has the greatest prospects of growth and value appreciation as it will be the closest residential area to the beach.
Many investors and real estate experts consider Region 8 as «la creme de la crème» of the Tulum Real Estate market, as this new neighborhood will be the most attractive and sought after by both investors and tourists.
Please look at our properties and don't hesitate to contact us, either through our website, WhatsApp, email or by visiting our offices in Tulum. We have a selection of the most interesting condo for sale in Tulum, and we will be more than happy to assist you with any inquiry of information or with any question that you may have. We can find very good deals for you!